Choosing the right size storage unit that fits your needs can be tricky, it is essential that you pack your belongings in the storage unit correctly. Here are some tools and tips to help you get it right!
Storage Calculator
How much space do you need?
Do you need help finding the perfect unit size? All you need is an idea of everything you intend to store and a few moments to spare. Simply enter the items into the calculator and be sure to include the quantity of each item. If you have additional questions, don't hesitate to get in touch with a storage expert!
Bed, King Size
approximately 70 cubic feet
Bed, Double Size
approximately 55 cubic feet
Bed, Single
approximately 40 cubic feet
Bed, Bunk (set of 2)
approximately 70 cubic feet
Dresser, Chest of Drawers
approximately 30 cubic feet
Cedar Chest
approximately 15 cubic feet
Ironing Board
approximately 10 cubic feet
Side Tables
approximately 10 cubic feet
Wardrobe Boxes (30 hangers)
approximately 10 cubic feet
Mirror
approximately 10 cubic feet
Size Suggestion
To receive a size suggestion, select the items you wish to store.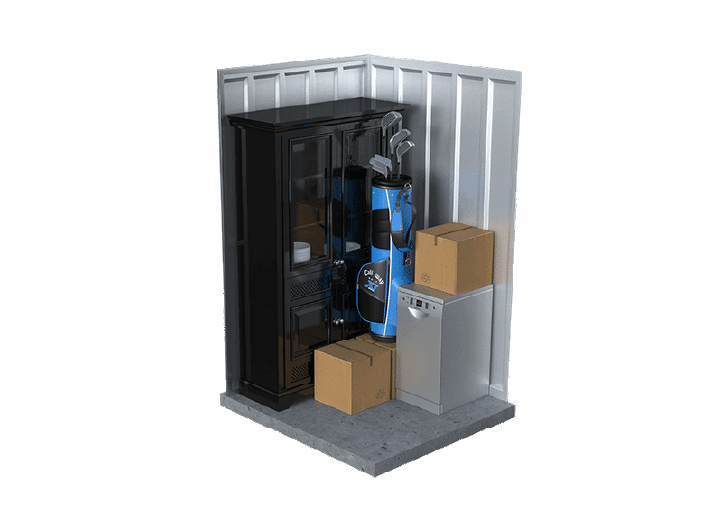 DOs...
Determine whether the goods you are storing will be better protected by placing them in boxes, totes, or other containers. You may need to purchase specialized boxes and other packing supplies to protect your items during the move and while they are stowed away.

Thoroughly clean, disinfect and dry refrigerators, freezers, stoves and other appliances. Appliances with doors can be stored with the door slightly open, and some can be stacked on top of each other.

Be sure to clean and dry all electrical equipment before storing in your unit.

Retard rust by wiping down all types of metal surfaces before storing. Use a few drops of machine oil to lightly coat these items for preventing rust and possible deterioration in the storage unit.

Pack all books, files, and documents flat, and use bubble wrap or newspaper to fill any empty spaces in the boxes or totes.

Store clothing on hangers before folding them into cartons. Make sure all drapes, curtains, linens and clothing items are washed and dry, or dry cleaned to avoid attracting pests.

Disassemble furniture and place pieces on a corrugated cardboard mat or plastic sheet before placing on a pallet.

Stack lightweight chairs "seat to seat", but avoid stacking other types of furniture on top of each other. Cover all upholstery with light cotton dust covers.

Wrap lamp bases in padding and store the lamp shade and base separately.

Holiday decorations can be stored in their original cartons. Wrap glass ornaments and other delicate items in bubble wrap or newspaper before storing in boxes or totes.

CDs, tapes, records and other music items can be stored in boxes or airtight cartons to prevent damage.

Cover computer screens and large televisions screens with dust covers and wrap in bubble wrap if you are storing these items next to furniture and other equipment.
DON'Ts...
Prohibited Storage Goods
Even though you alone control access to your storage space, there are some items that cannot be stored in your unit at any time. These include:
Live animals

Perishables

Liquids

Explosives

Flammable liquids and fuels

Toxic materials

Any items that need to be in a controlled environment
FAQ
Frequently Asked Questions
How much space do I need?
HeyRay Self Storage has 7 different sizes. The range of sizes and portable options can be overwhelming, but rest assured we are here to help. Based on your responses to a few simple questions, our professional and experienced team members can recommend a size to meet your needs and your budget. We also provide free storage tours to view the recommended size options. Contact our office for more information and assistance.
What items are prohibited to store in your facility?
To ensure the safety and health of our customers and employees, the following items are not permitted in our facility: liquids, explosives, flammable liquids, toxic materials and perishables. Please see our Dos and Dont's above. If you have any questions regarding a specific item, please contact us.
Our customers have the flexibility to select a move-in date that meets their needs and convenience. Visit our office during normal operating hours to select a unit and move-in date. You have the option to post-date your move in to make the actual moving date a bit smoother. You can complete the paperwork and payment one-month in advance.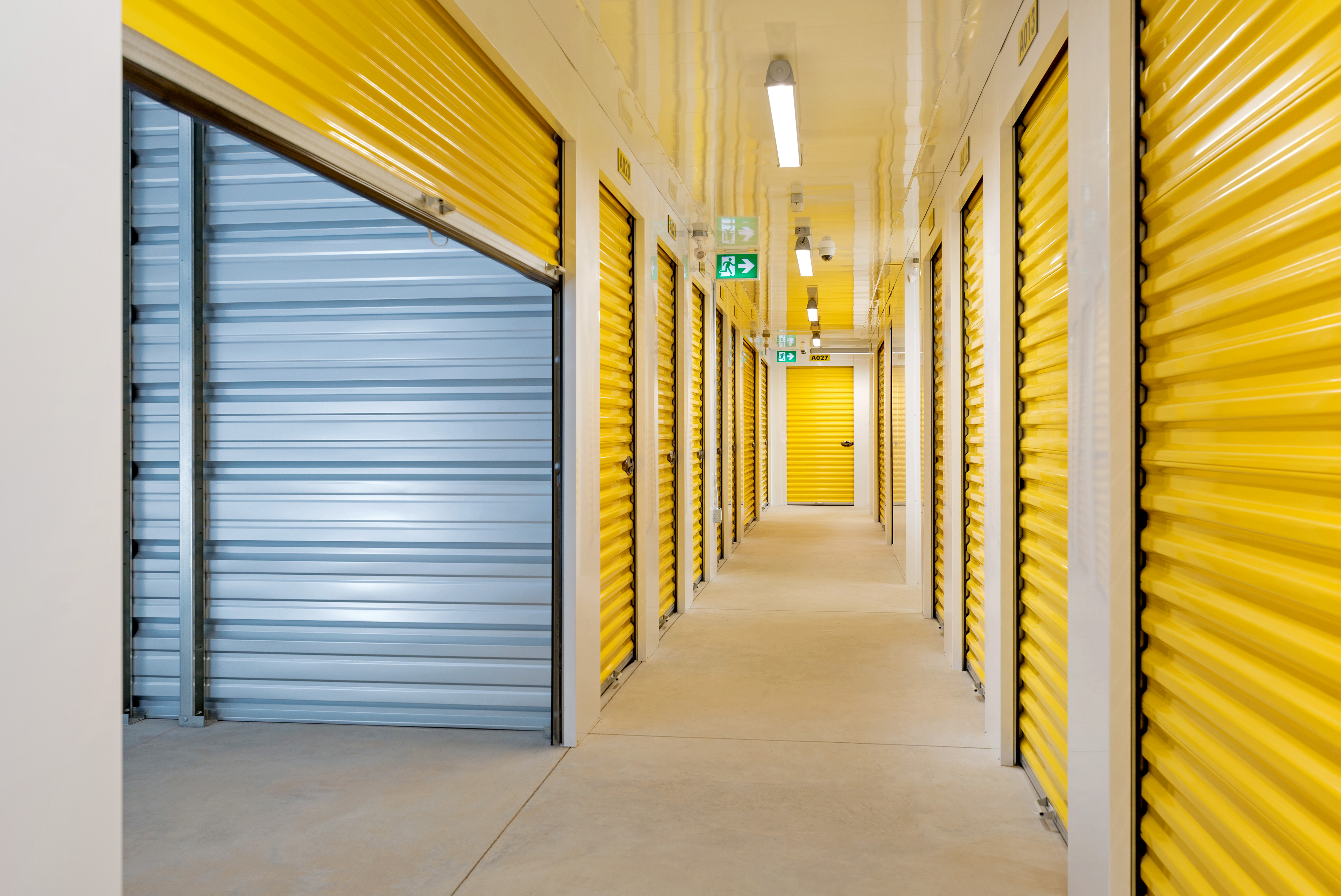 What is required to rent a storage space?
After you agree to the size and price of the storage unit, our team members will need your personal contact information and a government-issued photo ID. Customers are required to sign our rental agreement packet and pay the initial investment, which includes the rent for the first month and a one-time administration fee.
Do I need to sign a long-term lease?
No. Our rental agreement is on a month-to-month basis. The need for storage can be unpredictable. Tenants are in control of their move-in and move-out dates. Once you are ready to vacate the unit, schedule your move-out date at least 30 days in advance.
To save you the most money, automatic payment from your credit or debit card is required. We provide alternative 
payment options online
, over the phone, or in-person.
Why should I sign-up for Autopay?
Our automatic payment system is designed to process your rental payment on-time without any worry or concern about our late fees.
Your rental payment is due every first of the month. If you signed up for automatic payment, you payment will be deducted on the first of the month.
When can I access my unit?
Our location has 24-hour access.
How can I access my unit when the office is closed?
In order to go through our security gates after office hours, you must use your customized security pass code. Your pass code was given at the time of signing our rental agreement. If you do not know your pass code, please contact our office during normal operating hours.
Office Hours: 9 am to 5 pm, Monday - Sunday

Access Hours: 6 am to 10 pm, Monday - Sunday
What security features are offered?
Our facilities are fenced, gated, and under 24-hour video surveillance.
Do you sell boxes and storage supplies?
Yes. We sell various moving supplies in our office at competitive prices. To maximize your storage space, we recommend using our boxes. Our office is a one-stop shop for your packing and storing needs.
Do you have handcarts and dollies available at your facility?
Yes. You are welcome to use our complimentary carts to move in.
Can I transfer my items to a smaller or bigger unit?
Yes! Visit our office to take a look at our size options and to discuss the price difference. To avoid paying for the current and new unit at the same time, the transfer process must be completed on the same day. Similar to our move-in process, you will sign a new rental agreement packet.
My promotion or discounted rate has ended. What are my options?
Please contact our manager for assistance. Our manager will customize your options based on your current storage needs and budget.
What are the move-out procedures?
There is a two-step process to successfully move-out of your unit:
You must give a 30-day written notice in-person or email.

Physically check out with the office once all items have been removed from the unit, and the unit has been swept.
If You Need The Space,
We've Got The Place!